Congratulations to Clancy Catholic College West Hoxton 2021 Year 12 graduate Monique Frasca, whose animated drawings of historical houses have gained selection to the prestigious HSC Visual Arts showcase ARTEXPRESS! 
Philosopher Jacques Derrida coined the idea that objects leave traces of presence, despite their absence.
"With the concept of my work being about the past, I wanted to say 'if these houses could speak, what would they say?"
This is how emerging artist Monique Frasca explained her HSC Visual Arts major work, The Impetus Past, now on display at The Art Gallery of NSW as part of ARTEXPRESS.
Monique's work features hand-drawn historic houses lifted into the present through an animation that is accessible via a QR code.
"It feels really rewarding to have one year of work contribute to an exhibition which people are celebrating and which celebrates art created by youth" – Monique Frasca
DRAWING ON THE PAST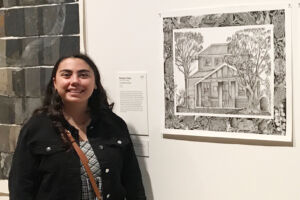 Asked about her artistic process, Monique said: "I thought it would be a great idea to animate the trees and make it more atmospheric, so you could really be immersed in the landscape where the houses are standing."
Historical accuracy was particularly important to her. 
"I had to make sure all the flowers in the gardens were Australian natives and that the objects were heritage objects," Monique explained.
It took two to three months to create each piece, "so it was quite a process," she said.
Monique counts philosopher Jacques Derrida, comic book illustrator Bernie Wrightson, American artist Franklin Booth, and Australian artist Rachel Whiteread among her influences.
She will next study a Bachelor of Arts/Advanced Studies at the University of Sydney, double majoring in English and Art History.
The Impetus Past is on display at The Art Gallery of NSW until Friday 25 April.